How to be a professional pets doctor
Course gives an overview with basic knowledge of the most important principles in small animals career with illustrated practical applications highlighting impact on how to begin in small animals doctor.
---
Course Details
1- Introduction & physical examination.
2- Most Common Diseases
. 3- Vaccination Program.
Number of lectures

3

Number of hours

01:53:58
Course Topics
---
Course Instructor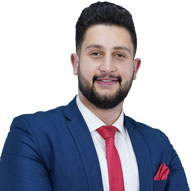 Dr.Mohamed Fares graduated with bachelor of veterinary from Benha university, Egypt.
He works as veterinary medicine lecturer in many organizations like Vetbook, Veterinary Council,

Veterinary Consultants and more.
He is owner and founder at Vet Ambulance.
He works also as medical district manager at Mervue Laboratories.
---