Microsoft PowerPoint-Basic Level
In this course you will learn the concept of building a business presentation in an organized and systematic manner , how to choose the right slide layout for each content, insert all data types to your presentation such as Pictures , tables, charts or il
---
Course Details
In this course you will learn the concept of building a business presentation in an organized and systematic manner , how to choose the right slide layout for each content, insert all data types to your presentation such as Pictures , tables, charts or illustrations.
You will also learn formatting the contents in a manner that is appropriate for the general layout of the presentation without causing any visual disturbance or distraction to the audience.
In the end you will learn how to start the show to present the content.
Slide Layouts
Understanding presentation views
Font and paragraph formatting
Convert Text to smart Art
Copy , Cut and paste data
Save and send your presentation
Number of lectures

3

Number of hours

02:24:58
Course Topics
---
Course Instructor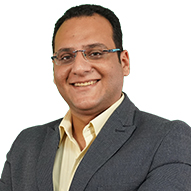 More than 12 years of experience in the field of training for individuals and companies.
Certified as official trainer from microsoft from 2010 and official microsoft learning consultant from 2011.
Microsoft office specialist expert which trained more than 5000 candidates with 98% customer satisfaction average rate.
Working as expert training consultant freelancer in many national and international companies.
He designs and trains a full courses and programs for medical field for all field force and managerial levels that working in different Pharmaceutical companies such as Sanofi , Novartis , MSD , chemipharm , October … Etc.
---