Why We Are Different
An Introduction about the healthcare industry and how it is really different than any other business industries
---
Course Details
During This course We will know more details about our unique industry using in-depth more details about our Customers , our services and how to provide it
The patient-Centered organization is a real cornerstone and means a very bright future.
Patients are Customers? Patients are Clients? We are going to know.
Doctors in Healthcare As Customers, Providers
Hospitals, Clinics, Medical Facilities in general. How to be prepared & Equipped to provide the services.
Human resources, The most precious assets we really have, how to prepare them? How to keep them well recognized & appreciated
Medicine Management! What is it? How it helps & enable the services provision quality.
Integration! What does it mean? How important is that?
The supply chain in healthcare is a real challenge. Is it similar to any other business? Or we are different?
We are not alone! Hospitals, Patients are not only one to one relationships! We have Third parties on board, Who are they? What is the role of them?
As healthcare became a business! We need Businessmen, investment, Money, Banking processes.
Number of lectures

10

Number of hours

04:33:22
Course Topics
---
Course Instructor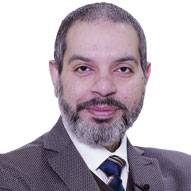 Strategic Planning & Business Development Manager
Dar El Oyoun Hospitals & Centers
Previous Work Experience
Dar El Oyoun Sheikh Zayed Hospital Executive Manager
Experienced in Policies & Procedures Writing & Developing
Experienced in Creating & Planning the proper patient Experience in Medical Facilities
Experience 11 years in Healthcare Management
---